i²c F&I Talk #64: Andreas Wendel (VP of Engineering at Kodiak Robotics)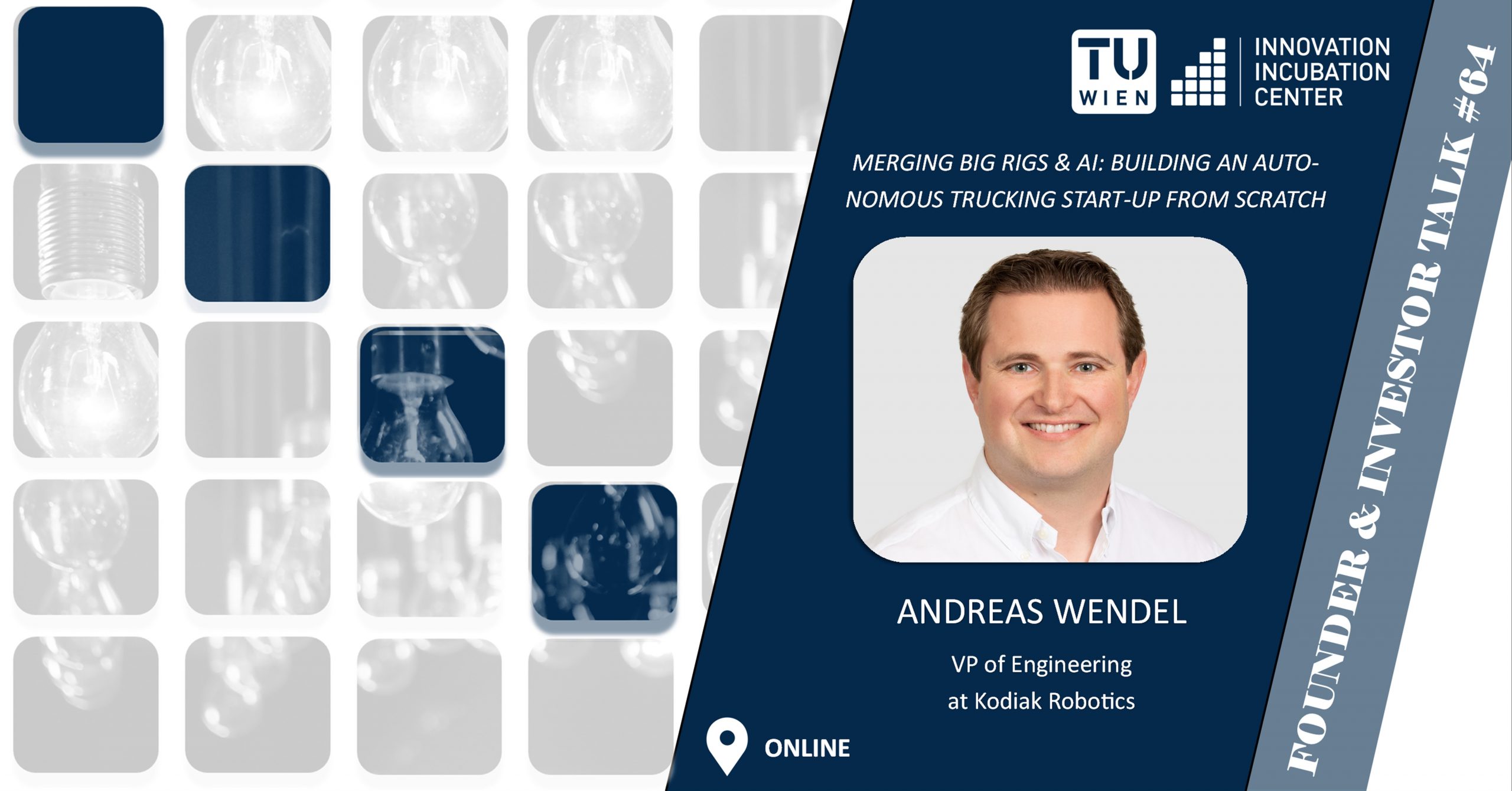 When:
April 14, 2021 @ 5:30 pm – 7:30 pm
Europe/Vienna Timezone
2021-04-14T17:30:00+02:00
2021-04-14T19:30:00+02:00
Topic: Merging big rigs & AI: Building an autonomous trucking startup from scratch
About this Event
The Founder & Investor Talks organized by the Innovation Incubation Center (i²c) at TU Wien enable the audience to learn first-hand from experienced founders, investors, and innovators. They share their international experiences, dos and don'ts and lessons learned during inspiring talks and answer questions in interactive Q&A-sessions.
More about Andreas Wendel
Andreas Wendel is the VP of Engineering at Kodiak Robotics, a Silicon Valley based startup focused on making autonomous long-haul trucking a reality. As one of Kodiak's founding engineers, he has built the company's engineering team from the ground up. Prior to joining Kodiak, Andreas was the Perception Tech Lead at Waymo, where he was part of the small team that launched the first driverless car on public roads. Andreas earned a PhD in Computer Science from Graz University of Technology, with highest distinction (sub auspiciis Praesidentis). He led the Aerial Vision Group working on autonomous visual navigation for quadcopters, he lectured at the Institute for Computer Graphics and Vision, and he was a visiting researcher at Carnegie Mellon's Robotics Institute. Andreas has received multiple national and international recognition for his work, including being named Austria's Innovator of the Year.
The Talk will focus on: Merging big rigs & AI: Building an autonomous trucking startup from scratch
Imagine seeing a large semi-truck on a highway, without a driver on board. As you pass it, you'll think of it as being well tested, with every hardware and software component working perfectly. Then your car's Bluetooth connection stops working again, for the third time this week. How can engineers build safe and reliable vehicles but not get your phone to work in the car? In this talk, Andreas Wendel will give insights into how to build an autonomous trucking startup from scratch, why it is all about systems engineering as opposed to individual hardware or software components, and how focusing on a narrow use case is essential to compete.
——————————————-
*** During the event, photographic and video material will be taken. Please inform the i²c team at the venue in case you do not agree with appearing in this material. The photographic and video material taken at the event will be used by i²c in printed and electronic media for promotional purposes.***